Last Friday (7th June 2012) I finally enrolled into the apple developer program. I originally registered as an apple developer back in 2010, however I never spent the extra money (I was cheap) to publish any apps (and at the time I was more interested in other languages). So now I am finally beginning iOS application development and it is exciting!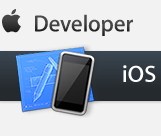 Over the past few weeks I have been studying Objective-C manuals (the documentation that apple provides is quite extensive) and the more I had played around with the language, the more I enjoyed writing in it. I am finding that it a far easier language to work with when it comes to object oriented programming (I'm sure there will be haters out there who love their c++ code).
So right now I am spending the time learning Objective-C, iOS 5 and what it can (and can't) do. I've already written a 'Hello World' app and have it running on my iPhone and iPad (I'll spare the pain of uploading it to the app store). Maybe I'll port pioneer space sim to the iPad.
I'm not too sure what direction I plan to take at this stage – I'm more focusing on extending my skills – don't expect an 'Angry Birds' killer app just yet.