I had already purchased an earlier edition of this book a few years ago on my kindle (third edition). It was a great read however, I found the electronic format a little too clumsy for a reference book. You just can't beat a dead tree version of a reference book sometimes.
While I was casually browsing Amazon, I saw that Practical Electronics for Inventors was on special so I took the opportunity to purchase the physical copy and later edition. It finally arrived today. Weighing in at just over 1000 pages long with a nice solid textbook feel, with nice large print as well.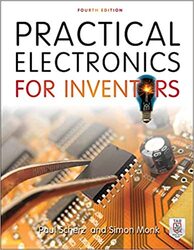 Practical Electronics for Inventors is a great reference book, and I like Simon Monk's style of writing. I have collected a number of his books in hard copy already (my other favorite book is Teach Yourself Electricity and Electronics). Practical Electronics for Inventors gives a simple practical guide on how to use different electronic components, and a few example circuits to explain how things work, but it doesn't go into any specific details. It's a great addition on my ever growing electronics bookshelf. I find it a much easier read than the classic electronics bible of "Art of Electronics" which I find a bit dry.
If you grab a copy, just make sure you go through the Errata and update it so you don't get confused by some of the strange values, especially on some of the formulas in the appendix (like I did).