I have created a simple No Connection symbol for Eagle CadSoft.
At the moment I have only 1 symbol/package included in this library and that is the 'NO CONNECTION' symbol. The intent is to add more things as I come across it.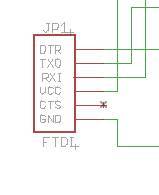 It is quite simple to use, it simply places an 'x' on the schematic. There is no PCB footprint (as there isn't one) so it is purely for visual aesthetics.
I'm surprised that Eagle doesn't have this in one of their default libraries.
You can download the latest version of the library from my eagle-lbr github repository. If you don't know how to use github then you can always download a pre-zipped version here.